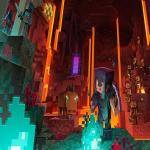 Welcome to NetherCraft! Immerse yourself in a thrilling Minecraft adventure like no other. With an impressive player capacity of 100 slots, NetherCraft offers a dynamic and engaging SMP (Survival Multiplayer) experience that will keep you hooked for countless hours.
Embark on a journey through the depths of the Nether, where danger and excitement lurk around every corner. Our server is expertly crafted to provide a balanced gameplay environment, combining the essence of survival with the exhilaration of multiplayer interactions.
Gather resources, build epic structures, and collaborate with fellow players to create thriving communities. Whether you prefer to settle in a bustling town, explore the vast wilderness, or delve into the mysterious depths of the Nether, NetherCraft has a place for you.
Our dedicated team of moderators ensures a fair and enjoyable experience for all players. Discover an active and welcoming community, where friendships are forged and alliances are formed. Engage in player-versus-player battles, join epic quests, or participate in exciting events that will challenge your skills and test your mettle.
With NetherCraft's optimized server performance, you can expect smooth gameplay and minimal lag, ensuring you can fully immerse yourself in the vibrant world we've created. Experience Minecraft in all its glory with stunning landscapes, unique biomes, and awe-inspiring structures.
Whether you're a seasoned Minecraft veteran or a newcomer to the world of block-building, NetherCraft welcomes players of all skill levels. Unleash your creativity, conquer the Nether's challenges, and leave your mark on this ever-evolving realm.
Join NetherCraft today and embark on an extraordinary adventure in a thriving multiplayer community. The Nether awaits, and the possibilities are endless!
What kind of Minecraft Server is NetherCraft?
NetherCraft is a Minecraft Survival Server that specifically serves players using the Java edition of the game. The server aims to provide a friendly and welcoming environment for players to enjoy a balanced and engaging Survival experience.
Types of Games and Gameplay on NetherCraft?
Minecraft servers offer a diverse range of game modes and gameplay types, which is what sets them apart from one another. NetherCraft is a Minecraft server that offers several types of games and gameplay, including PVE modes.
Server software used to run NetherCraft?
Using custom server software provides additional features, customization options, and plugin support compared to the original Minecraft server jar. This server has registered their server to use the following server software: Spigot
Additional plugins / mods installed on server
Essentials,
How do I join the NetherCraft server?
Join with Minecraft Java edition
Click on the Java IP here to copy it: eu.netherserver.com:25576
Open Minecraft and click the Multiplayer tab and click Add Server
Paste the IP into the Add Server option. Click Done
Click Join and enjoy playing on NetherCraft