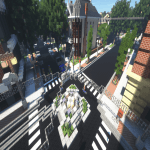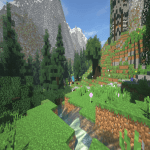 24/7 Dedicated Server, Playtime Ranks, Economy, Sell any item, Kits & Crates, Spawn City.
» TO CONNECT PLEASE USE DIREWOLF20 1.12 V2.8.0 «
WE ARE CURRENTLY STILL IN DEVELOPMENT AND LOOKING FOR STAFF / PLAYTESTERS.
Our goal is to provide unique features to the FTB experience by allowing players to use all the tools available on our server to enjoy themselves in ways un-available in a vanilla experience.
FEATURES:
- Buy or Sell any item at /warp shop using Villagers.
- Up to 16+ Ranks to level up to with in game play time and money and can not be bought for real money.
- Spawn is a 10,000 x 10,000 city in which once players reach a certain rank they are allocated a plot in Spawn.
- Random TP anywhere in Wild.
- Protect your land with a Wooden Axe. You can earn more land claim area by voting.
- Kits available throughout ranks.
- Crates used as rewards. Higher ranks get access to different crates. Varied rewards.
- Unique feel to the server, aesthetically pleasing & user friendly.
Join us today dw20.westleaf.store
What kind of Minecraft Server is WestLeaf Direwolf20 v2.8.0?
WestLeaf Direwolf20 v2.8.0 is a Minecraft Feed The Beast Server that specifically serves players using the Java edition of the game. The server aims to provide a friendly and welcoming environment for players to enjoy a balanced and engaging Survival experience.
Types of Games and Gameplay on WestLeaf Direwolf20 v2.8.0?
Minecraft servers offer a diverse range of game modes and gameplay types, which is what sets them apart from one another. WestLeaf Direwolf20 v2.8.0 is a Minecraft server that offers several types of games and gameplay, including Roleplay, PVP, PVE, McMMO, Economy, CityBuild modes.
Server software used to run WestLeaf Direwolf20 v2.8.0?
Using custom server software provides additional features, customization options, and plugin support compared to the original Minecraft server jar. This server has registered their server to use the following server software: Craftbukkit
Does WestLeaf Direwolf20 v2.8.0 use any special modpacks?
Modpacks often require players to install mods on their own client. This server has registered their server to use the following modpacks: FTB
Additional plugins / mods installed on server
Claimblocks, Crates, Kits, Ranks, Playtime Ranks, Direwolf20, Dw20
How do I join the WestLeaf Direwolf20 v2.8.0 server?
Join with Minecraft Java edition
Click on the Java IP here to copy it: dw20.westleaf.store
Open Minecraft and click the Multiplayer tab and click Add Server
Paste the IP into the Add Server option. Click Done
Click Join and enjoy playing on WestLeaf Direwolf20 v2.8.0