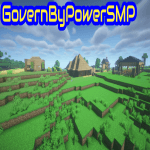 Hello, and thank you checking out the server. Right off the bat I want say, this is a home hosted server, so expect a few small hiccups with the server from time to time, although it runs pretty well. Right now, the server is in its early stages, we don't have many active players. I've been promoting it though my small YouTube channel, Gordon Dreaming. At the moment I have 110 subscribers. If you want to be a part of a growing channels community, this might be what you're looking for. I stream on the server quite often. Right, I should talk about the server now. So, this is a Faction Roleplaying SMP server, meaning that you create a faction, do things like going to war for example. You roleplay while having social interaction with other members. The faction plugin we use is Medieval Factions. A good faction plugin all around. We also have chest shops; chest shops allow you to sell items in chest. Last notable plugin we have is Dynmap, a website that host a 2D view of the server world. We have a lot more plugins and I'm always adding. So, if all of this seems fun, why not give the server a shot? Maybe even become a part of the small community by joining the discord! Lastly don't expect a lot from the server.
What kind of Minecraft Server is GovernByPower?
GovernByPower is a Minecraft Survival Server that specifically serves players using the Java edition of the game. The server aims to provide a friendly and welcoming environment for players to enjoy a balanced and engaging Survival experience.
Types of Games and Gameplay on GovernByPower?
Minecraft servers offer a diverse range of game modes and gameplay types, which is what sets them apart from one another. GovernByPower is a Minecraft server that offers several types of games and gameplay, including PVP, Land Claim, Factions, Economy modes.
Server software used to run GovernByPower?
Using custom server software provides additional features, customization options, and plugin support compared to the original Minecraft server jar. This server has registered their server to use the following server software: Spigot
Additional plugins / mods installed on server
ChestShops, Dynmap, Medieval Factions, Stackmobs, Vault, EssentialsX, LightPerms
How do I join the GovernByPower server?
Join with Minecraft Java edition
Click on the Java IP here to copy it: 72.175.116.104
Open Minecraft and click the Multiplayer tab and click Add Server
Paste the IP into the Add Server option. Click Done
Click Join and enjoy playing on GovernByPower