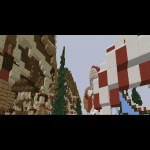 🎮 Benvenuti nel nostro server Minecraft! Abbiamo preparato un'esperienza di gioco ricca e coinvolgente, La Modalità? Survival! Sbizzarritevi e divertitevi in un mondo virtuale pieno di avventure e sfide!
🏞️ Survival: Per i giocatori che amano l'esplorazione e la sopravvivenza in un mondo aperto, offriamo una modalità Survival completa. Inizia da zero, raccogli risorse, costruisci un rifugio, esplora il territorio e affronta le sfide che la natura ti presenta. Combatti contro i mob, alleva animali, coltiva il terreno e crea la tua avventura personalizzata. Puoi giocare da solo o collaborare con altri giocatori per creare comunità incredibili e costruire monumenti epici!
🌏 Il nostro server comprende anche una comunità accogliente e amichevole. Puoi interagire e fare amicizia con giocatori provenienti da tutto il mondo, partecipare a eventi speciali, competizioni e molto altro ancora. Siamo impegnati a offrire un'esperienza di gioco di alta qualità e adattata alle tue preferenze.
Unisciti a noi sul server Minecraft e immergiti in un mondo di avventure entusiasmanti! 🎉✨
What kind of Minecraft Server is HalpMC?
HalpMC is a Minecraft Survival Server that specifically serves players using the Java edition of the game. The server aims to provide a friendly and welcoming environment for players to enjoy a balanced and engaging Survival experience.
Types of Games and Gameplay on HalpMC?
Minecraft servers offer a diverse range of game modes and gameplay types, which is what sets them apart from one another. HalpMC is a Minecraft server that offers several types of games and gameplay, including unknown modes.
Server software used to run HalpMC?
Using custom server software provides additional features, customization options, and plugin support compared to the original Minecraft server jar. This server has registered their server to use the following server software: Spigot
Additional plugins / mods installed on server
cornettojar
How do I join the HalpMC server?
Join with Minecraft Java edition
Click on the Java IP here to copy it: 65.108.193.234:25571
Open Minecraft and click the Multiplayer tab and click Add Server
Paste the IP into the Add Server option. Click Done
Click Join and enjoy playing on HalpMC