0 Players have voted for this server in December.
143 Votes - All time

Top Voters

Top Voters
The owner of this server has disabled comments.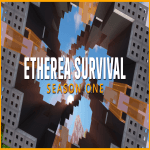 Server IP - Copy to Minecraft Client to Play: survival.playetherea.net
Welcome to ETHEREA SURVIVAL! We are a CROSS PLATFORM SEMI-VANILLA SURVIVAL Minecraft server with 5 years of experience. We support Java and Bedrock Editions of Minecraft, as well as versions all the way back to 1.9. So you can enjoy ETHEREA on any device and almost recent version of Minecraft. Our goal is to create a place where everyone can let their imagination go wild and disconnect from the outside world. It does not matter if you're an explorer, builder or just want to enjoy the community.
We have just relaunched for SEASON ONE after a long time in development. With a brand new spawn, crossplay with Bedrock Edition, and a variety of new features, the server is sure to provide you with an exciting and engaging adventure!
If you want to read more about SEASON ONE, be sure to visit our website and read the article!
➜ https://playetherea.net/survival/article/launching-etherea-survival-season-one
■ GAMEPLAY ■
Semi-Vanilla Minecraft
Multiple Sethomes
Random Teleport [RTP]
Land Claims
Vote Ranks
Hard Mode Server
Dynmap
No Economy Plugins
Vivecraft Support
No Resets [We expand our world border for new terrain generation]
Parkour
Version Backwards Compatibility
And much more, come check it out!
■ HOW TO JOIN ■
To join us on JAVA EDITION:
➜ survival.playetherea.net
For BEDROCK EDITION [Windows 10, Mobile, Console, etc...]:
➜ survival.playetherea.net
use port 19132 [Default Bedrock port]
■ LINKS ■
➜ ETHEREA Website: https://playetherea.net
➜ Discord: https://discord.playetherea.net
➜ YouTube: https://www.youtube.com/@ETHEREANetwork
➜ Twitter: https://twitter.com/ETHEREANetwork
➜ Instagram: https://instagram.com/ETHEREANetwork
➜ Reddit: https://reddit.com/u/ETHEREANetwork
➜ TikTok: https://www.tiktok.com/@ethereanetwork
■ RULES ■
No Profanity
Respect Other Players
No AFK or LAG Machines
No Hacked/Modded Clients and X-Ray
No Griefing, Even If Unclaimed
Bypassing Bans Using Alt Accounts is Forbidden
Real Money In-Game Transactions Are Not Allowed
This is just a small exempt of our full rules, for the full rules, visit this link.;
➜ https://playetherea.net/survival/docs/server-rules
Join our Discord!
➜ https://discord.playetherea.net
Thanks for playing on ETHEREA SURVIVAL!

Dynmap, GriefPrevention, CoreProtect, Essentials, ViaVersion, ViaBackwards, Floodgate, Geyser, Harbor