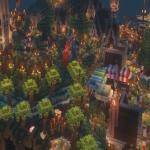 Armageddon Server - Servidor Survival Brasileiro
Entre com o IP: armamc.com
Aceitamos as versoes: 1.14 at 1.20.1 (Java e Bedrock Edition)
Verso do Mapa: 1.20.1 (Caves & Cliffs: Parte II)
Sistemas Principais:
Protecao de construcoes com /prot
Habilidades do mcMMO /mcstats
Sistema de clas com /clan
Mapa para recursos com /recursos
Liga mensal de clas com premiaes /liga
Loja do server virtual com /sloja
Loja de jogadores por bau com /ploja
Leilao virtual de itens com /ah
Casamento entre jogadores com /marry
Warp publica de jogadores com /go
Duelo entre jogadores com /x1
Usar skins customizadas com /skin
Eventos diarios e semanais diversos
Melhorias na Gameplay:
Remoo de geradores com toque suave
Recolhimento automatico de itens com /auto
Separador de itens usando moldura no funil
Organizador de inventario automatico com /sort
Sentar em escadas e lajes com /sentar
Teleportar mobs que estiverem lacados
Bloquear copia de MapArts com /copyright
What kind of Minecraft Server is Armageddon Server?
Armageddon Server is a Minecraft Survival Server that specifically serves players using the Java edition of the game. The server aims to provide a friendly and welcoming environment for players to enjoy a balanced and engaging Survival experience.
Java Server IP: armamc.com
Minecraft Version: The server operates on version 1.20
Types of Games and Gameplay on Armageddon Server?
Minecraft servers offer a diverse range of game modes and gameplay types, which is what sets them apart from one another. Armageddon Server is a Minecraft server that offers several types of games and gameplay, including Roleplay, PVP, PVE, Land Claim, McMMO, Economy modes.
Server software used to run Armageddon Server?
Using custom server software provides additional features, customization options, and plugin support compared to the original Minecraft server jar. This server has registered their server to use the following server software: Spigot
Additional plugins / mods installed on server
Essentials, SkinsRestorer, Wild, SimpleClans
How do I join the Armageddon Server server?
Join with Minecraft Java edition
Click on the Java IP here to copy it: armamc.com
Open Minecraft and click the Multiplayer tab and click Add Server
Paste the IP into the Add Server option. Click Done
Click Join and enjoy playing on Armageddon Server
Chart: Players online on Armageddon Server in the month of December