249 Players have voted for this server in September.
5371 Votes - All time

Top Voters

Top Voters

~AkaoniP - 22 votes
DragonMage372 - 18 votes
NectarBandit - 17 votes
Painteres - 16 votes
slowbrobro22 - 13 votes
Icy_Unicorn - 10 votes
_tobedetermined_ - 9 votes
topazrose - 9 votes
~AkaoniPP - 7 votes
Sppek - 7 votes
Playbounce35
2023-08-31 12:53:10
This server is amazing! The players are kind and staff is helpful. While having some QOL features like /sethome, it feels very vanilla. I recommend this server to anyone who is looking for a vanilla non-anarchy experience.
~ivedonegoof
2023-08-10 20:39:01
I love this server so much! This server is great because it is very well made and the features are high-quality!!
Russel_Craft
2023-08-01 18:46:56
Fantastic server for people who enjoy pure vanilla with quality of live changes, great community and very worth your time.
kingswrld
2023-07-29 05:43:14
very good community and fun server not any dislikes other then not being able to fully raid a base
Eagle_Strike
2023-05-13 11:19:06
Great Server for beginners and Pros! I like the shop system alot!
Zaratul420
2023-04-19 02:25:52
Fun server very friendly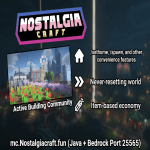 Server IP - Copy to Minecraft Client to Play: mc.NostalgiaCraft.fun
NostalgiaCraft - Where Community and Creativity Unite! (Bedrock & Java Crossplay)
🏰 Build, Create, Thrive: Collaborate within our community to craft awe-inspiring structures in a 100K world border. Apply for spawn access to showcase your skills!
🛡️ Claim Your Domain: Vanilla gameplay made convenient with commands like /spawn and /sethome. Focus on adventure and creation.
⚔️ Adventure Awaits: Engage in wild PvP and daring thievery. Forge alliances, conquer challenges, and uncover the unknown.
🌟 Enhanced Features: Enjoy the little things—sit on stairs for a cozy touch, toggle phantoms for restful nights, and experience fast leaf decay. Say goodbye to pesky creeper holes.
🛒 Thriving Economy: Dive into an item-based economy with an active trading system. Utilize /trade to exchange resources and thrive in a player-driven marketplace.
🛠️ Active Staff, Quick Support: Our dedicated team ensures your experience is exceptional. Get help through discord tickets.
🚀 Ever-Evolving: NostalgiaCraft grows with you. Stay tuned for exciting updates and new wonders.
Visit Our Wiki: https://nostalgiacraft.fun/wiki
Join Our Discord: https://discord.gg/rmNcuGX