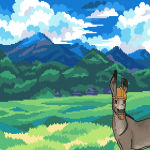 RELAUNCHED 06/27/2023 | REVAMPED | TRAILER IN DESC | AugustaTowny is a Minecraft server that offers a unique and immersive experience for players who enjoy town-building, player interaction, and the economy side of things. With the popular Towny plugin, players can join or create their own towns, and work together with other players to build, protect and grow their community. We offer custom world generation to allow your creativity to skyrocket. Our server also offers a friendly and welcoming community, where players can enjoy a variety of activities such as mining, farming, trading, and crafting. We have an economy system that allows players to earn money by selling their resources and items, and use it to take over baltop #1.Our staff team is dedicated to providing a safe and enjoyable environment for all players, and are always available to assist players with any questions or concerns. So come join us on Augusta Towny and experience the fun and excitement of town-building, exploration, and community interaction!
What kind of Minecraft Server is AugustaTowny?
AugustaTowny is a Minecraft Survival Server that caters to players using both Java and Bedrock editions of the game. The server aims to provide a friendly and welcoming environment for players to enjoy a balanced and engaging Crossplay, Survival experience.
They offer the following server quality standards:
Family-friendly
Types of Games and Gameplay on AugustaTowny?
Minecraft servers offer a diverse range of game modes and gameplay types, which is what sets them apart from one another. AugustaTowny is a Minecraft server that offers several types of games and gameplay, including Towny, Roleplay, PVE, Land Claim, McMMO, Economy modes.
Server software used to run AugustaTowny?
Using custom server software provides additional features, customization options, and plugin support compared to the original Minecraft server jar. This server has registered their server to use the following server software: Spigot
Additional plugins / mods installed on server
Essentials, Dynmap, MCMMO, Towny, PVE, Pyrofishing, Terralith, Jobs
How do I join the AugustaTowny server?
Join with Minecraft Java edition
Click on the Java IP here to copy it: play.augustatowny.com
Open Minecraft and click the Multiplayer tab and click Add Server
Paste the IP into the Add Server option. Click Done
Click Join and enjoy playing on AugustaTowny
Join with Minecraft Bedrock / Pocket Edition (MCPE)
Click on the link here to: Add AugustaTowny to Minecraft Pocket Edition
Click Play and enjoy playing on AugustaTowny Bedrock Edition.
If the above does not work, then Copy this IP and Port individually. play.augustatowny.com Port: 25565
Open Minecraft Pocket Edition and click the Play button
Open the Servers tab and click on the Add Server option
Paste the IP into the Server Address field, and the Port in the Port field
Click Play and enjoy playing on AugustaTowny Bedrock Edition.