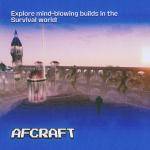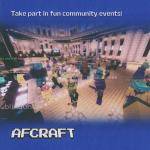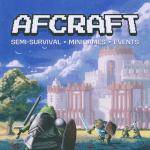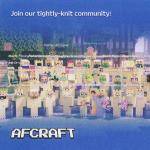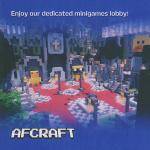 Welcome to AFCRAFT, where the possibilities are endless!Our server offers both a survival world and a minigames lobby, so you can choose to embark on a solo adventure or join forces with friends and compete in various games. Our survival world is an immersive experience - Our dedicated community has built some extraordinary things! On the other hand, our minigames lobby has a plethora of high-quality minigames to choose from, including Bedwars, Spleef, Hunger Games, Quake, Party Games, and so many more! With something for everyone, we guarantee you won't get bored!But it's not just the gameplay that sets us apart. Our community is incredibly tight-knit, and we pride ourselves on creating a friendly and welcoming atmosphere. Whether you're a seasoned Minecraft player or just starting out, you'll find that our players are always willing to lend a helping hand. You'll feel right at home in our community, and who knows, you might even make some lifelong friends!In addition to our regular gameplay, we also have weekly community events that are always a blast. From build competitions to scavenger hunts, there's always something fun going on. These events are a great way to get involved with the community, meet new players, and even win some awesome prizes. So what are you waiting for? Come join us on AFCRAFT where over 3,000 unique players have joined!
What kind of Minecraft Server is AFCRAFT?
AFCRAFT is a Minecraft Survival Server that specifically serves players using the Java edition of the game. The server aims to provide a friendly and welcoming environment for players to enjoy a balanced and engaging Survival experience.
Types of Games and Gameplay on AFCRAFT?
Minecraft servers offer a diverse range of game modes and gameplay types, which is what sets them apart from one another. AFCRAFT is a Minecraft server that offers several types of games and gameplay, including Bedwars, PVP, PVE, Land Claim, Economy, Hunger Games, MiniGames, Survival Games modes.
Server software used to run AFCRAFT?
Using custom server software provides additional features, customization options, and plugin support compared to the original Minecraft server jar. This server has registered their server to use the following server software: Spigot
How do I join the AFCRAFT server?
Join with Minecraft Java edition
Click on the Java IP here to copy it: play.afcraft.net
Open Minecraft and click the Multiplayer tab and click Add Server
Paste the IP into the Add Server option. Click Done
Click Join and enjoy playing on AFCRAFT