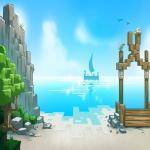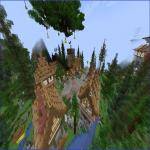 Welcome to Teldaria
Teldaria is a Survival RPG, Minecraft Experience. Dive into a fascinating world full of dark dungeons, custom monsters, custom gear and extraordinary treasures!!
Are you ready to embark on a journey that will forever change the way you experience Minecraft? Teldaria is more than just a server; it's your portal to a world brimming with excitement, where creativity knows no bounds and epic adventures await at every turn!
Build Your Dream City!
Teldaria invites you to stake your claim and join the ranks of master builders! Create your own thriving metropolis, from quaint villages to sprawling urban centers. Your imagination is the only limit! With claims and city building, craft your legacy like never before!
Choose Your Profession!
Forge your destiny with a variety of unique professions, from the mystical Alchemist to the resourceful Farmer. Whether you're mining deep in the earth or patrolling the wilderness as a Hunter, your skills will shape the world around you! Unleash your potential with custom recipes for each job and unlock their hidden powers!
Master the Art of Combat!
Teldaria offers a diverse array of weaponry, from swift Daggers to mighty Greataxes. Engage in thrilling battles with foes and friends alike, each weapon type providing a unique playstyle. Prove your mettle in the arena or explore the treacherous dungeons—victory awaits the bold!
Enhance Your Gear with Gems and Runes!
Unearth the secrets of powerful gems and runes that can be socketed into your equipment. Customize your gear to perfection, and discover that perfect combination of enhancements! Sockets add an element of chance to the mix—will luck favor you?
PyroFishing and More!
Experience the thrill of PyroFishing, a unique and fiery take on a beloved pastime. Cast your line and see what treasures await beneath the waves. Plus, uncover hidden missions, secret Easter eggs, and much more as you explore the realm of Teldaria!
Engage with Our Caring Community!
Our responsive and friendly staff is here to ensure your Teldaria adventure is nothing short of amazing. Whether you seek guidance or simply wish to chat, we're here for you. Forge bonds, build alliances, and become part of our tight-knit community!
Discover Custom Realms and Animated Bosses!
Teldaria's three custom realms await your exploration, each with its own unique challenges and treasures. Venture forth, face animated bosses, and rise through the ranks with our thrilling leveling system! Are you up for the challenge?
Cosmetics and Beyond!
Immerse yourself in a world of dazzling cosmetics. Express your unique style with a vast selection of visual enhancements and decorations. Become the envy of Teldaria with your one-of-a-kind look!
Join us at Teldaria and embark on the adventure of a lifetime! Whether you're a seasoned player or a fresh-faced explorer, there's a place for everyone in our extraordinary realm. Don't just play Minecraft—live it with us!
See you in the world of Teldaria!
Server IP: mcsl.teldaria.com
What kind of Minecraft Server is Teldaria?
Teldaria is a Minecraft Survival Server that specifically serves players using the Java edition of the game. The server aims to provide a friendly and welcoming environment for players to enjoy a balanced and engaging Survival experience.
Types of Games and Gameplay on Teldaria?
Minecraft servers offer a diverse range of game modes and gameplay types, which is what sets them apart from one another. Teldaria is a Minecraft server that offers several types of games and gameplay, including Roleplay, PVP, PVE, McMMO, Economy, CityBuild modes.
Server software used to run Teldaria?
Using custom server software provides additional features, customization options, and plugin support compared to the original Minecraft server jar. This server has registered their server to use the following server software: Craftbukkit, Spigot
Additional plugins / mods installed on server
MythicMobs, MMOItems, MCMMO, Essentials
How do I join the Teldaria server?
Join with Minecraft Java edition
Click on the Java IP here to copy it: mcsl.teldaria.com
Open Minecraft and click the Multiplayer tab and click Add Server
Paste the IP into the Add Server option. Click Done
Click Join and enjoy playing on Teldaria
Chart: Players online on Teldaria in the month of November