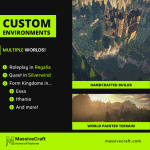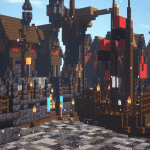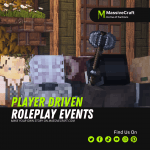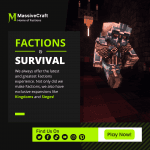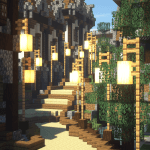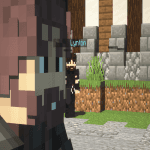 MassiveCraft is the Original Factions Server! Our server features Factions, PvP, Roleplay, Quests, and Minigames. Experience 30+ custom plug-ins, explore handcrafted worlds, and take part in an international community! Our server can be joined using 1.131.18.2 clients. Come and create your legacy!
Factions, Kingdoms, and Sieges: Ever since the Factions plugin was created on MassiveCraft, it has constantly evolved and now boasts custom features, rank creation capabilities, and unique permissions! We now have 2 in-house extension plugins, Kingdoms and Sieges, which function as the Factions equivalent to Towny Nations. Group up together with your faction allies to form a Kingdom, and Siege your enemies to absorb their factions!
PvP: Fight fierce McMMO enhanced battles, unlock and use special abilities with the custom MassiveRaces plug-in, and fight your heart out across a range of custom arenas using MCDuels KitPvP. Fulfill your destiny and become a PvP champion with our global ELO system! Take your fights to the battlefield with Kingdoms and Sieges!
Roleplay: Aloria is MassiveCrafts high fantasy setting. The City of Regalia is sprawling and contains the Regalian Empires brightest minds and lowest criminals. You can join guard charters, criminal gangs, noble families, businesses and more, all depending on how you wish to play your character! This city evolves based on the actions of players like you, so come and create your own stories!
Events & Minigames: Our staff team works hard to make the server fun for each group of players and what they enjoy! We regularly host events and contests and have introduced Minigames. Fight across five custom PvP maps and fight together with your team to claim victory!
Staff: Our friendly staff team is always here to help! Not only does MassiveCraft use an intuitive ticket system to assist players, our staff members are constantly innovating and improving the server!
Questing: MassiveCrafts RPG experience takes place in Silverwind, a colony in Essalonia. Complete quests from NPCs that lead you all around the island, fight custom mobs, solve puzzles, and become the Hero of Silverwind! You decide how the story will end.
Parkour: Parkour on MassiveCraft takes place in the Gauntlet Dungeons, a long hallway built for players to traverse a multitude of physically and mentally challenging parkour obstacles which progressively increase in difficulty. Each level will grant you a unique, custom item reward on completion.
What kind of Minecraft Server is MassiveCraft?
MassiveCraft is a Minecraft Survival Server that specifically serves players using the Java edition of the game. The server aims to provide a friendly and welcoming environment for players to enjoy a balanced and engaging Survival, Adventure experience.
Types of Games and Gameplay on MassiveCraft?
Minecraft servers offer a diverse range of game modes and gameplay types, which is what sets them apart from one another. MassiveCraft is a Minecraft server that offers several types of games and gameplay, including Parkour, Roleplay, PVP, PVE, Factions, McMMO, KitPvP, Economy modes.
Server software used to run MassiveCraft?
Using custom server software provides additional features, customization options, and plugin support compared to the original Minecraft server jar. This server has registered their server to use the following server software: Spigot
Additional plugins / mods installed on server
Factions, MCMMO, Dynmap, Races, Quest, Kingdoms, Sieges, Vampire
How do I join the MassiveCraft server?
Join with Minecraft Java edition
Click on the Java IP here to copy it: massivecraft.com
Open Minecraft and click the Multiplayer tab and click Add Server
Paste the IP into the Add Server option. Click Done
Click Join and enjoy playing on MassiveCraft
Chart: Players online on MassiveCraft in the month of December