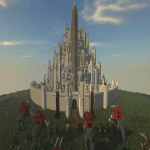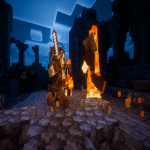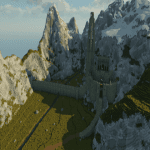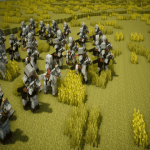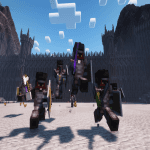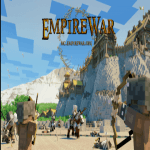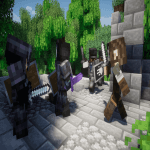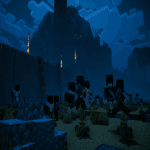 Empire War is an exciting, Lord of the Rings castle siege, PvP Minecraft server. Experience expansive class based combat, both attacking and defending locations from the Lord of the Rings novels and Films.
[b]Each map features a new array of play-styles for you to try out and master, as well as new custom built locations to explore and discover.[/b]
Join the forces of Mordor, Isengard, Haradrim, and more evil factions. Conquer Helm's Deep as an Uruk-Hai general, besiege Minas Tirith with hordes of trolls, or raid the fields of Edoras riding dreadful wargs!
Or choose to fight for the free peoples of Middle-Earth. Defend the ruins of Osgiliath, or protect the ancient Halls of Moria! Push back the assaults on Erebor or end the evil once and for all at the doorstep of Mordor at the Black Gate!
Join us, and experience firsthand the magical excitement that only Empire War can offer. Embark on a journey where you will battle, conquer, and shape your own destiny, all within a world where legends are forged: the future of Middle Earth is in the palm of your hand!
Whatever you want to do, whatever side you want to fight for, Empire War allows you to jump right into Middle-Earth and feel like you're actually part of its world.
Join now with the IP:
- play.empirewar.org
Join our Discord server!
https://discord.gg/ydvVkCX
~See you soon!
What kind of Minecraft Server is The Empire War LOTR Siege Server?
The Empire War LOTR Siege Server is a Minecraft PvP Server that specifically serves players using the Java edition of the game. The server aims to provide a friendly and welcoming environment for players to enjoy a balanced and engaging unknown experience.
Types of Games and Gameplay on The Empire War LOTR Siege Server?
Minecraft servers offer a diverse range of game modes and gameplay types, which is what sets them apart from one another. The Empire War LOTR Siege Server is a Minecraft server that offers several types of games and gameplay, including Roleplay, PVP, KitPvP, Capture the Flag modes.
Server software used to run The Empire War LOTR Siege Server?
Using custom server software provides additional features, customization options, and plugin support compared to the original Minecraft server jar. This server has registered their server to use the following server software: Spigot
How do I join the The Empire War LOTR Siege Server server?
Join with Minecraft Java edition
Click on the Java IP here to copy it: lotr.empirewar.org
Open Minecraft and click the Multiplayer tab and click Add Server
Paste the IP into the Add Server option. Click Done
Click Join and enjoy playing on The Empire War LOTR Siege Server