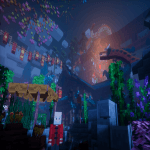 The perfect server to make new friends! Looking for a non-grief community that welcomes you upon every login? Well WinterCrest is for you!
We believe Multiplayer is for playing with others and with your friends, so we try our best for every player to connect with others by allowing players to have the ability to teleport to others and set public warps. In addition to that, we also hold daily and weekly events to bring you closer with your fellow players!
Furthermore, you can rest assured that you and your previous things are safe. With our anti grief plugins, and dedicated staff team any grief will be undone chests are auto-protected, PvP is disabled and all mobs can be locked!
We are strictly against pay-to-play and very generous with perks and nifty items! Just ask our dedicated player base! ALL donor perks such as fly, speed, nick are easily available to all players using crate keys obtained through voting!
So, what can you expect? On WinterCrest you can relax, make friends and build! When youre feeling burned out hop over and try our Minigames or Event Worlds! Failing that, you can chat on Discord with our amazingly friendly players!
Here at WinterCrest, we ensure our staff members know exactly what they are doing, and have knowledgeable experience of our server. You will rank up in accordance to your maturity, helpfulness and general vibe towards your fellow players. We believe that our staff are fair, consistent, friendly and responsible at all times.
You can ask any staff member for help anytime. WinterCrest does not tolerate any form of staff abuse towards players. That said, every member of our staff plays legitimate survival like any normal player.
So what are you waiting for Join now!
No griefing, friendly smp!
What kind of Minecraft Server is WinterCrest SMP?
WinterCrest SMP is a Minecraft Survival Server that specifically serves players using the Java edition of the game. The server aims to provide a friendly and welcoming environment for players to enjoy a balanced and engaging Survival experience.
They offer the following server quality standards:
Family-friendly
Types of Games and Gameplay on WinterCrest SMP?
Minecraft servers offer a diverse range of game modes and gameplay types, which is what sets them apart from one another. WinterCrest SMP is a Minecraft server that offers several types of games and gameplay, including Bedwars, Skywars, Skyblock, Towny, Parkour, Earth, Roleplay, PVP, PVE, Land Claim, Economy, Hunger Games, MiniGames, Survival Games, Capture the Flag, CityBuild modes.
Server software used to run WinterCrest SMP?
Using custom server software provides additional features, customization options, and plugin support compared to the original Minecraft server jar. This server has registered their server to use the following server software: Spigot
Additional plugins / mods installed on server
Grief Prevention, Crates, Minigames, Custom Mobs
How do I join the WinterCrest SMP server?
Join with Minecraft Java edition
Click on the Java IP here to copy it: play.wintercrestmc.com
Open Minecraft and click the Multiplayer tab and click Add Server
Paste the IP into the Add Server option. Click Done
Click Join and enjoy playing on WinterCrest SMP