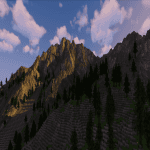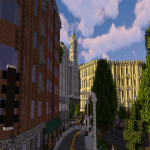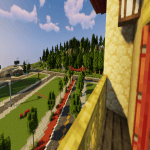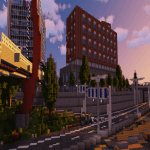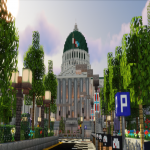 Welcome to BusinessCraft!
  Are you ready to explore a new role play server? Are you ready to adventure the city and find your destiny? BusinessCraft is a minecraft-survival City Roleplay server that uses custom easy to use plugins to simulate aspects of a real city. The server includes a wide selection of jobs such as: Engineer, Miner, Lumberjack, Doctor, Lawyer and many more! This server also has a government and democratic elections!
City Life!
Live in a cozy house in the suburbs while building your business empire downtown. You can start businesses ranging from agriculture to manufacturing, scale your business into a large corporation or keep it a small local business, or you can work for another company and enjoy everything else the city has to offer!
The city has lots to explore, you can rent apartments including penthouses, explore easter eggs like the sewers, or venture into the acres of wildlife preserve just outside city limits! Buses, trains, subways, and planes can help you travel throughout the city and world. Nearly everything built within the city is player owned and operated.
Become a famous Entrepreneur!
The servers economy is very dynamic, starting a business is easy but the process can change depending on the governments regulations. Businesses can scale up quickly by hiring other players and advertising. Discords and websites can be made to facilitate business operations and your business will be listed in our services list.
Become apart of the Government!
BusinessCraft is based on a democratic government system. Become a part of the Executive Branch by joining a government department and possibly one day running one as a Minister! Or get elected into the Parliament and create new laws with fellow Members!
Wild Life!
You can choose to live in the wild! Adventure the fierce survival world and build your base. Collect resources to sell them to players or the Government! Regioning your base creates a secure anti-griefing barrier. It prevent players from destroying or stealing anything out of your chests.
What kind of Minecraft Server is BusinessCraft?
BusinessCraft is a Minecraft Survival Server that specifically serves players using the Java edition of the game. The server aims to provide a friendly and welcoming environment for players to enjoy a balanced and engaging Survival experience.
Types of Games and Gameplay on BusinessCraft?
Minecraft servers offer a diverse range of game modes and gameplay types, which is what sets them apart from one another. BusinessCraft is a Minecraft server that offers several types of games and gameplay, including Roleplay, Land Claim, Economy modes.
Server software used to run BusinessCraft?
Using custom server software provides additional features, customization options, and plugin support compared to the original Minecraft server jar. This server has registered their server to use the following server software: Spigot
Additional plugins / mods installed on server
Essentials, Dynmap, Vehicles, ChestShop, Companies, AreaShop, Disease, Guns
How do I join the BusinessCraft server?
Join with Minecraft Java edition
Click on the Java IP here to copy it: play.mcbusinesscraft.com
Open Minecraft and click the Multiplayer tab and click Add Server
Paste the IP into the Add Server option. Click Done
Click Join and enjoy playing on BusinessCraft