8 Players have voted for this server in December.
6230 Votes - All time

Top Voters

Top Voters

NB_Monke - 2 votes
Cattenico - 1 vote
hnefatom - 1 vote
blockbuster7426 - 1 vote
_Altypher_ - 1 vote
FatKankleZ - 1 vote
RoaringThundrr - 1 vote
pretty good for free. I would love to have my own realm, but this is a great alternative. Very friendly community. Love from Finland <3
INDOSIX
2023-11-07 21:05:07
as good of a server you're going to get. Vanilla, friendly players, blazing fast and no BS! come check for yourself~
k3tchup3
2023-10-16 23:48:44
Awesome server, players are nice. We help each other to build houses, get netherite armor, and a lot more. Pvp is not allowed.
k3tchup3
2023-10-15 16:49:27
This server is awesome, the players are nice, no one is grieving or destroying. I got full diamond in the first 2 hours. Come and join!
aidenlo4froggo
2023-09-18 09:19:44
Great server! I like it because people are nice and don't greif
Mooncat213
2023-08-27 20:15:28
The most friendliest server I've ever played! love the map and players! I hope to see more new players Joining soon!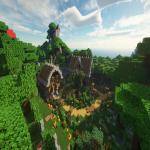 Server IP - Copy to Minecraft Client to Play: mc.classicvanilla.org
A Minecraft server with classic vanilla experience and the latest version 1.20.2!
- We respect the work of other players so griefing is prohibited.
- The map limit is 50k so you have a lot of space to play.
- The difficulty level is set to Hard.
- We have no plugins that alter gameplay.
- No teleport commands i.e. /tpa, /home, /spawn
- PvP is allowed if both players agree.
Discord: https://discord.classicvanilla.org
SERVER RULES
1. No hacking or using mods which increase your advantage.
2. No destroying or robbing other players' buildings.
3. No offensive builds, names or skins.
4. No advertising of any kind.
5. No spamming or flooding the chat.
6. No spawnkilling or destroying other players' beds.
7. Glitches/exploits that may cause server lags are not allowed.
8. PvP is allowed if both players agree.
9. Respect other players. Racism or any slurs are not allowed.