4 Players have voted for this server in October.
6180 Votes - All time

Top Voters

Top Voters

Eunsahng - 2 votes
MikeeStar - 1 vote
Hooberslap - 1 vote
aidenlo4froggo
2023-09-18 09:19:44
Great server! I like it because people are nice and don't greif
Mooncat213
2023-08-27 20:15:28
The most friendliest server I've ever played! love the map and players! I hope to see more new players Joining soon!
p_Nai
2023-08-24 12:03:55
just found this server and possibly the best classic vanilla server. everything is nicely build and rules are simple. I will make a base and have a peaceful mc life here.
SopaCofa
2023-08-02 03:44:44
From the moment I first stepped foot onto the server, I was greeted with open arms and warm hearts. The sense of community on this server is unlike any other. Strangers swiftly became friends, and friendships evolved into a tightly-knit family. We share stories, laughter, and triumphs, and in times of need, we support each other with compassion and understanding. The genuine care and camaraderie in this community have created a safe space for me to be myself, allowing me to form connections that transcend the virtual realm.
Leadthem
2023-07-21 12:38:55
I love this server even if i kep diying it is stil awson
V1rtualBox
2023-07-13 20:32:45
Great Server overall, great moderation and extremely friendly players! Barely any building restrictions and everyone is willing to help you out.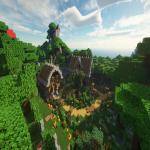 Server IP - Copy to Minecraft Client to Play: mc.classicvanilla.org
A Minecraft server with classic vanilla experience and the latest version 1.20.1!
- We respect the work of other players so griefing is prohibited.
- The map limit is 50k so you have a lot of space to play.
- The difficulty level is set to Hard.
- We have no plugins that alter gameplay.
- No teleport commands i.e. /tpa, /home, /spawn
- PvP is allowed if both players agree.
Discord: https://discord.classicvanilla.org
SERVER RULES
1. No hacking or using mods which increase your advantage.
2. No destroying or robbing other players' buildings.
3. No offensive builds, names or skins.
4. No advertising of any kind.
5. No spamming or flooding the chat.
6. No spawnkilling or destroying other players' beds.
7. Do not use glitches. Nether roof is the exception.
8. PvP is allowed if both players agree.
9. Respect other players. Racism or any slurs are not allowed.