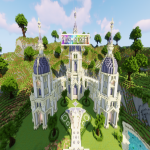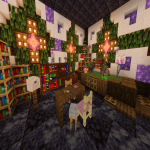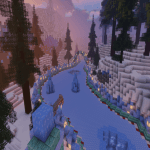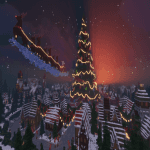 SEASON 2 HAS JUST BEGUN!
Come enjoy a brand new world and brand new content!
PrismaCraft is a friendly, community-focused, towny server that is perfect for any Minecraft player looking for a place to settle down and vibe, build, and grind to their heart's content! Our unique range of plugins help create a cozy, yet grindy, vanilla-ish experience with RPG elements. Come find your own little home within our lovely community!
Custom Enchants: Custom enchantments are a significant focus of our server! Unlike most other servers, these can be obtained through normal minecraft mechanics!
Bosses: Take on super-powered mobs in arenas to grab valuable crafting materials!
Talismans: Craft Talismans that boost XP gain, enhance base minecraft functions, and more.
EcoSkills: We have modified default skills as well as fully custom made skills for you to explore and grind!
Jobs: We currently have 13 jobs to choose from. The more you level up the more money you make!
Cosmetics: Obtain exclusive cosmetics and pets through the crate.
Towny: We use towny for land claiming and grief prevention.
Economy: Chest shops in player warps and the auction house are where you'll do the most of your shopping. /Warp Mall has premium items, like furniture and hats!
PVP: PVP is 100% optional, and done through (optional) towny wars or pvp arenas!
In-game ranks: Rank up with the money you earn from jobs to unlock more commands and perks! Such as kits, and extra homes, player vaults, colored nicknames, titles and more!
Custom Texture pack: We have a custom texture pack that adds furniture, clothing, mobs, tools, weapons and more!
Boat Races: We have a boat race plugin where you can do timed trials and race other players on our boat race tracks.
And More: With 90+ plugins it would be impossible to list all that the world of PrismaCraft has to offer! We hope to see you soon on play.prismacraft.net or in our discord!
What kind of Minecraft Server is PrismaCraft?
PrismaCraft is a Minecraft Survival Server that specifically serves players using the Java edition of the game. The server aims to provide a friendly and welcoming environment for players to enjoy a balanced and engaging Survival experience.
Types of Games and Gameplay on PrismaCraft?
Minecraft servers offer a diverse range of game modes and gameplay types, which is what sets them apart from one another. PrismaCraft is a Minecraft server that offers several types of games and gameplay, including Towny, Roleplay, PVE, Land Claim, Economy modes.
Server software used to run PrismaCraft?
Using custom server software provides additional features, customization options, and plugin support compared to the original Minecraft server jar. This server has registered their server to use the following server software: Spigot
Additional plugins / mods installed on server
Towny, Ecoskills, EcoEnchants, Jobs, Bosses, Custom Fishing
How do I join the PrismaCraft server?
Join with Minecraft Java edition
Click on the Java IP here to copy it: play.prismacraft.net
Open Minecraft and click the Multiplayer tab and click Add Server
Paste the IP into the Add Server option. Click Done
Click Join and enjoy playing on PrismaCraft