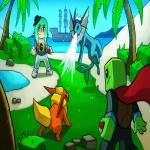 Cobblemon Islands is a new Cobblemon server embracing exploration and collaboration!
Earn unique rewards on a seasonal basis, including custom skins for your Pokémon!
Server Features
- Personal Cobblemon Skins System
- Seasonal Battle Pass & Events
- Ranked Battles
- Pokéhunt
- Your Pokémon will defend you from hostile mobs & Pokémon
- Player Gyms (coming soon)
- Furniture & Cosmetics
- Tournaments
- Custom PokéVillage & Terrain Generation
- Breeding, Trading, and Wondertrading
- NEVER Pay-To-Win
And many other features will be listed in our official roadmap!
What kind of Minecraft Server is Cobblemon Islands?
Cobblemon Islands is a Minecraft Survival Server that specifically serves players using the Java edition of the game. The server aims to provide a friendly and welcoming environment for players to enjoy a balanced and engaging Survival experience.
Types of Games and Gameplay on Cobblemon Islands?
Minecraft servers offer a diverse range of game modes and gameplay types, which is what sets them apart from one another. Cobblemon Islands is a Minecraft server that offers several types of games and gameplay, including Cobblemon, Towny, Roleplay, PVP, PVE, Land Claim, McMMO, Economy modes.
Server software used to run Cobblemon Islands?
Using custom server software provides additional features, customization options, and plugin support compared to the original Minecraft server jar. This server has registered their server to use the following server software: Craftbukkit
Additional plugins / mods installed on server
essentials, dynmap, MCMMO, Gym Badges, Pokemon Skins, Cobblemon Mod
How do I join the Cobblemon Islands server?
Join with Minecraft Java edition
Click on the Java IP here to copy it: play.cobblemonislands.com
Open Minecraft and click the Multiplayer tab and click Add Server
Paste the IP into the Add Server option. Click Done
Click Join and enjoy playing on Cobblemon Islands
Chart: Players online on Cobblemon Islands in the month of October