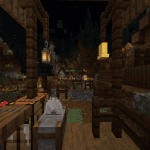 🌲 Forest Plus 🌲 🌴 A Server focused on Economy and Slightly-Modded Semi-Anarchy, (Regularly Updated!)
BUILDERS DESPERATELY NEEDED DM ME ON DISCORD 'forestineryt' 🏗️
RELEASING IN like a week idk 🕶️
Server Online 24/7 EU Servers and stable experience with 4GB Ram! 👏🏾
🕳️ Accepting Plugin Suggestions!
🙂 Your Progress will never disappear overnight for literally no reason.....
🪂 Preloaded Chunks so no running into black chunks when using an Elytra!
🚰 Spigot Server with the Origins Plugin as well!
🌌 Discord Server Features:
Clean and Easy to Use Interface
Self Promote Channel and No Spam Pingers!
Onboarding (Choose when you want to get pinged and what channels you will access!)
Vanity Roles and Invite Roles!
Ballsdex
Dank Memer
Wick
🔗 Discord Invite: https://discord.gg/T8eCywKj3w
What kind of Minecraft Server is Forest Plus?
Forest Plus is a Minecraft Survival Server that specifically serves players using the Java edition of the game. The server aims to provide a friendly and welcoming environment for players to enjoy a balanced and engaging Survival experience.
They offer the following server quality standards:
Family-friendly
Types of Games and Gameplay on Forest Plus?
Minecraft servers offer a diverse range of game modes and gameplay types, which is what sets them apart from one another. Forest Plus is a Minecraft server that offers several types of games and gameplay, including Anarchy, PVP, PVE, Economy modes.
Server software used to run Forest Plus?
Using custom server software provides additional features, customization options, and plugin support compared to the original Minecraft server jar. This server has registered their server to use the following server software: Craftbukkit, Spigot
How do I join the Forest Plus server?
Join with Minecraft Java edition
Click on the Java IP here to copy it: ForestPlus.exaroton.me:17751
Open Minecraft and click the Multiplayer tab and click Add Server
Paste the IP into the Add Server option. Click Done
Click Join and enjoy playing on Forest Plus