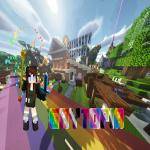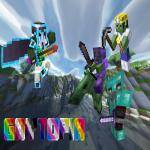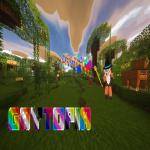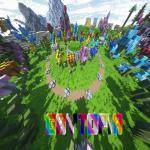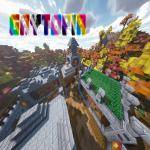 The goal of Gaytopia is to provide an enjoyable space for the LBGT+ Community to play Minecraft together.
Server IP: mc.gaytopia.lgbt
Patreon: https://www.patreon.com/gaytopia
Discord: https://discord.gg/T3s5j9g
Web Map: http://map.gaytopia.lgbt:25467/
Wiki: https://gaytopia.fandom.com/wiki/Gaytopia_Wiki
How to Join.
1. Join our discord sever
2. fill out our pinned template in introductions
3. Leave a message saying you have done this in ask-staff so we can add you to the whitelist
About the Server.
Gaytopia is a server for the LGBT+ Community. We are mainly a survival server with a creative world, minigames, RPG elements, and more!
You can can play in survival with other players, go build in creative mode in our Creative Plots world, you can play our wide range of minigames, and you can partake in our quests Quests are not yet setup.
Gaytopia has friendly staff that upholds the rules to ensure that everyone has a pleasant experience.
What kind of Minecraft Server is Gaytopia?
Gaytopia is a Minecraft Survival Server that specifically serves players using the Java edition of the game. The server aims to provide a friendly and welcoming environment for players to enjoy a balanced and engaging Survival experience.
They offer the following server quality standards:
Whitelist
Types of Games and Gameplay on Gaytopia?
Minecraft servers offer a diverse range of game modes and gameplay types, which is what sets them apart from one another. Gaytopia is a Minecraft server that offers several types of games and gameplay, including Skyblock, Roleplay, PVP, PVE, McMMO, KitPvP, Economy, Hunger Games, MiniGames, Survival Games, Capture the Flag modes.
Server software used to run Gaytopia?
Using custom server software provides additional features, customization options, and plugin support compared to the original Minecraft server jar. This server has registered their server to use the following server software: Spigot
Additional plugins / mods installed on server
mcmmo, PlotsSquared, Magic, QualityArmory, HungerGames, FFA, Dynmap, MyPet, Jobs, XpBoost, MythicMobs, PyroFishing, PyroMining, Pyromon
How do I join the Gaytopia server?
Join with Minecraft Java edition
Click on the Java IP here to copy it: mc.gaytopia.lgbt:25698
Open Minecraft and click the Multiplayer tab and click Add Server
Paste the IP into the Add Server option. Click Done
Click Join and enjoy playing on Gaytopia