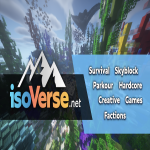 isoVerse [1.20 Survival, Skyblock, Creative, Games, Hardcore, Parkour, Factions] Java + Bedrock
isoVerse is a new Minecraft 1.20 network with SEVEN fun servers: Survival, Skyblock, Creative, Games, Hardcore, Parkour, Factions.
IP & Website: isoVerse.net | Join with Java + Bedrock
Begin your Survival adventure in Imber, a huge town with a hundred fun quests. Trade with new deals daily in our dynamic economy, set up chest shops, create towns, rent land, build with friends, and more!
In Skyblock, survive on a floating Island with minimal resources. Level-up and expand solo or with friends. Collect crystals to buy upgrades and boosters. Customize and upgrade your Island!
Join Creative to build anything you can imagine on a 99x99 plot. Build with friends and use free WorldEdit, and show off your creations in a monthly contest to earn free ranks!
Our Games include Cake Wars, Kit PvP, 1v1 challenges, and many fun seasonal games and events throughout the year. Battle, build, and play games and events to earn loot and a spot on the leaderboard!
On Hardcore, survive in the harsh wilderness with maximum difficulty. Fight 20 unique hostile mobs during a Blood Moon. If you die, you're locked out for increasing lengths of time!
In Parkour, jump to earn free cosmetic perks throughout isoVerse, XP, crates, and a spot on the leaderboard. Over 40 easy, medium, and hard courses, with your personal Infinite Parkour lobby!
Play Factions to build up your territory and power. Make allies or enemies with other factions, or decide to be a lone ranger. Participate in jobs, shop in a dynamic economy, and protect your base!
What kind of Minecraft Server is isoVerse?
isoVerse is a Minecraft Survival Server that caters to players using both Java and Bedrock editions of the game. The server aims to provide a friendly and welcoming environment for players to enjoy a balanced and engaging Survival experience.
They offer the following server quality standards:
Family-friendly
Types of Games and Gameplay on isoVerse?
Minecraft servers offer a diverse range of game modes and gameplay types, which is what sets them apart from one another. isoVerse is a Minecraft server that offers several types of games and gameplay, including Bedwars, Skyblock, Parkour, Roleplay, Land Claim, Factions, McMMO, Economy, MiniGames modes.
Server software used to run isoVerse?
Using custom server software provides additional features, customization options, and plugin support compared to the original Minecraft server jar. This server has registered their server to use the following server software: Spigot
Additional plugins / mods installed on server
Custom, Parkour, GriefDefender, mcMMO, Cosmetics, ChatGPT
How do I join the isoVerse server?
Join with Minecraft Java edition
Click on the Java IP here to copy it: isoVerse.net
Open Minecraft and click the Multiplayer tab and click Add Server
Paste the IP into the Add Server option. Click Done
Click Join and enjoy playing on isoVerse
Join with Minecraft Bedrock / Pocket Edition (MCPE)
Click on the link here to: Add isoVerse to Minecraft Pocket Edition
Click Play and enjoy playing on isoVerse Bedrock Edition.
If the above does not work, then Copy this IP and Port individually. isoVerse.net Port: 19132
Open Minecraft Pocket Edition and click the Play button
Open the Servers tab and click on the Add Server option
Paste the IP into the Server Address field, and the Port in the Port field
Click Play and enjoy playing on isoVerse Bedrock Edition.